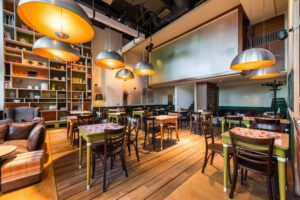 It's estimated that the typical family restaurant uses up to seven times more energy per square foot than most other types of commercial buildings. Fast-food restaurants are estimated to use up to 10 times more energy than other buildings. And with energy rates on the rise and projected to continue to increase over the coming months and years, any increase in utility costs is going to continue to cut into a restaurant's bottom line.
On this note, energy conservation becomes all the more important in any type of restaurant – and one of the ways to conserve energy and curb costs is by having an energy audit done on your facility. On this page, we'll explain how an energy audit works, how it can save you money, and how Green Line Rates can help.
How it Works
Simply put, an energy audit is a thorough assessment of a building to determine its energy efficiency – or lack thereof – and where improvements can be made. When you have your restaurant's energy efficiency audited by Green Line Rates, you can rest assured that it will be done by a registered, professional, and experienced auditor.
A restaurant energy audit will consist of several different phases. These phases include:
The initial evaluation: This involves a property consultation to assess current energy usage to learn more about the facility's energy usage, peak usage times, and more.

Utility bill audit:

Utility bill assessments

are often done in conjunction with an energy audit. These assessments consist of an auditor reviewing past utility bills to ensure that your facility is being correctly billed. Such audits also look for any other irregularities in utility bills and rates.

Learn more

about when you should have a utility bill audit done.

Recommendations: The final step of an energy audit tends to consist of recommendations to improve energy efficiency based on utility bill assessments and our consultation. At this stage, an auditor will also likely present the findings from a utility bill audit (if one was done) and suggest cost savings strategies or negotiation tactics that can be administered to secure a lower rate.
Service Offered
At Green Line Rates, we specialize in restaurant energy consulting to help your business save money. Read on to learn more about our restaurant energy audit and restaurant energy consulting services:
Restaurant Energy Audit
A restaurant energy audit doesn't just identify ways to help your business operate more efficiently, but it can also help improve profitability. Think of it like this: Every 20 percent you reduce energy consumption translates to roughly an increase of 1 percent in profit. If your restaurant is able to earn any type of LEED certification, it may qualify for tax credits – something that can also reduce your bottom line and improve profits. Energy audits can reduce carbon footprint and help create a more sustainable restaurant, something that can be used as a competitive advantage in marketing your business. Keep in mind that studies indicate that sustainability is an important purchase consideration for about 60 percent of consumers. Going green isn't just good for the environment or your restaurant's bottom line, but it can be really good for business too.
Restaurant Energy Consulting
Beyond performing a one-time energy audit, Green Line Rates is able to become an extension of your restaurant business thanks to our consulting services. Energy consulting helps provide owners with a comprehensive understanding of trends and opportunities to further improve energy efficiency. A consultant can also help your restaurant develop a plan to meet any of its goals based on suggestions from an energy audit. When you consider that cooking, lighting, and refrigeration account for some 80 percent of the total energy used in a restaurant, there are opportunities for improvement beyond some of the basic and most well-understood energy efficiency practices. Our consulting services can help identify and take advantage of opportunities to yield further savings. We can also monitor performance over time to ensure that your business is still doing what it needs to do to use less energy.
Contingency Basis
One of the nice things about Green Line Rates' energy audit and consulting services is that we don't get paid unless we help you save money – so you have nothing to lose by working with us! If we can't identify and implement savings in your restaurant, then we don't get paid. It's as simple as that.
The good news is that we almost always identify opportunities – whether it's through an audit or our consulting services. In most cases, we're able to help a restaurant save up to 25 percent on its utility bills. We'll perform our services and provide a roadmap for how to get it done. We won't ask for a dime unless we can save you money through alternative utility bill rate structures and other means.
Get Your Restaurant's Utilities Audited Today!
For more information on the value of a restaurant energy audit and a consulting service, contact Green Line Rates today. As a professional, qualified firm dedicated to reducing your footprint, we're dedicated to improving your restaurant's energy efficiency and helping our clients save money. Contact us today for more information and to schedule an audit. If you live in Georgia or one of the following cities please feel free to reach out:
DeKalb County: Avondale Estates, Brookhaven, Chamblee, Clarkston, Decatur, Doraville, Dunwoody, Lithonia, Pine Lake, Stonecrest, Stone Mountain, and Tucker. And also, Gainesville, Peachtree Corners, Milton, Sandy Springs, and more!