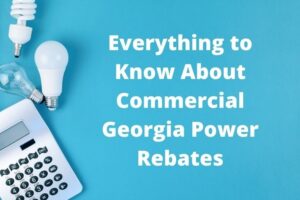 Running a restaurant can often feel like a juggling act of expenses, figuring out a way to balance your needs, knowing when to spend, and when to save. Narrow profit margins also mean any expense saved can have a sizeable impact. But if you have already cut expenses as much as you thought you could, where should you look next?
More than many other commercial industries, restaurants end up spending a lot on utilities. While overhead costs like labor sometimes simply cannot be cut, turning the attention to energy use you can control may be the best course of action for lowering costs. Owners can choose from many different options to implement energy saving practices, but it's safe to assume most would want to go for the route that saves their wallet. Below we discuss many inexpensive and quick fixes any restaurant owner can use to lower restaurant utility rates.
Inexpensive Ways to Reduce Utility Rates
While most people might believe you need to spend money to save money, that does not have to be the case. Plenty of inexpensive options exist to help you lower restaurant utility rates. If you can get your staff involved and aware, you should be able to see instant savings.
Shut down unused equipment to save electricity. It may seem obvious, but numerous restaurants wastefully neglect to turn off idle equipment or lights. If a room is empty, keep the lights off, or if you are in the middle of some down time, shut off your ovens or fryers until business picks up again.
Training Employees or Setting Reminders. Post reminders throughout the restaurant in places like above the sink, next to light switches, or near important equipment to remind staff to turn off equipment when not in use. Create a schedule for employees to follow or invest in timers or smart controls that you can control from devices remotely. You can also create checklists for employees that close the building down each night to know what to turn off or what settings to change.
Pay attention to where equipment is located. If ice machines or coolers are working too hard, your electricity bill will be negatively affected, not to mention there is additional strain on the coolers from having to overcompensate. Optimize the layout of your kitchen to keep coolers away from any heat-producing equipment. Coolers and refrigeration units also need proper ventilation to keep cool, otherwise more energy is used.
Keep water temperatures as low as possible. Decrease heat usage from your water intake by lower water temperatures on your dishwasher. There is a mandatory temperature to monitor but keeping it at the required temperature will ensure your water is not hotter than it needs to be.
Do not ignore necessary repairs. Not doing regular maintenance or checks that directly impact energy consumption, such as leaking faucets or changing filters, will slowly add up the cost over time.
Adjust your menu. Keep the menu simple and choose items that save energy costs. Instead of thinking about the price of ingredients, consider the way your menu items are cooked. Different methods of preparation can have a large impact on utility rates. Food cooked in an oven tend to waste less energy than rotisseries and broilers. Strategize ways to work your menu around high electricity costs.
Replace some lightbulbs. Replacing smaller items like lightbulbs will save more money upfront than purchasing brand new appliances, but it can make a sizeable contribution toward your energy saving efforts. LED bulbs last at least ten times longer than incandescent bulbs.
Commercial Energy Audits
Just like the inexpensive fixes listed above, commercial energy audits also find cost-saving opportunities for your business without having to do any major, costly changes. The average restaurant in the United States spends $2.90 per square foot per year on electricity alone. When energy costs reach a certain threshold, initiating an energy audit may identify areas of considerable waste and shed lights on bigger solutions.  The goal of an audit is to identify excessive energy costs and bring them down. An on-site auditor will examine your building and collect data to suggest ways to save costs long-term.
Review our case study to find out how we helped popular Georgia restaurant, Five & Ten, lower costs and provided crucial savings.
Work with Green Line Rates to Reduce Your Restaurant Energy Expenditures
Green Line Rates works with many restaurant owners and understand the industry well. We want to save you money without having to spend money first. Let us perform your energy audit today and we will negotiate on your behalf and monitor energy saving costs to ensure your business always has the best pricing option. The best part is we won't charge you until you start experiencing savings!
At Green Line Rates, we are ready to be your partner in reducing your commercial utility costs. Working on a contingency basis, we don't require any upfront payment to save your company money. Instead, if we find utility cost reduction opportunities that will cut your annual expenses, we simply earn a percentage of those savings. If there aren't any opportunities found, you don't pay a thing.
If you'd like to get started on your risk-free energy audit, please contact our team today and get started on the next steps within 10 minutes. If you would like to learn some tips for saving money on utilities, please check here.