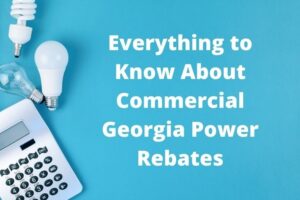 These days, we could all use lower electric bills to help keep our businesses up and running. If leveraged correctly, rebates are actually a great way to upgrade your equipment to more energy efficient options and reduce your energy bills. Doing so in tandem with an energy audit can result in lower monthly bills that last far into the future of your business, and give you great ways to grow.
Here, we'll take a look at some of the most effective Commercial Georgia Power Rebates & Incentives you can consider implementing for your own business.
What Businesses Do These Rebates Apply To?
According to the City of Atlanta's Code of Ordinances, commercial business entities can include:
Banks or similar financial institutions
Business or commercial schools
Child care centers
Churches, and other religious worship facilities
Clubs and lodges
Commercial greenhouses
Commercial recreation establishments (bowling alleys, theaters, etc.)
Eating and drinking establishments
Dormitories, fraternity houses, etc.
Hospitals
Hotels and motels
"Institutions of higher learning," including colleges and universities
Laundry and dry cleaning collection facilities
Mortuary and funeral homes
Multi-family dwellings
Museums, libraries, and similar facilities
Offices, clinics, laboratories
Parking structures
Plumbing/air conditioning service
Printing or blueprinting shops
And more
If your business falls under any of those categories, or related ones, you may be eligible for the rebates below. We've outlined a few of what we think are the best commercial rebate programs from Georgia Power to help you explore for yourself in more detail.
Commercial Energy Efficiency Rebates
One of the most beneficial rebates Georgia Power currently offers is the Commercial Energy Efficiency Program. This rebate is a great opportunity for many business owners because it makes installing new, more energy-efficient equipment a much more affordable option. Not only does the program help you save money on equipment you will likely need in the future, but it can also help you reduce the cost of your energy bills after the equipment is up and running.
Rebates are included for upgraded lighting, smart WiFi thermostats, commercial dishwashers, and more. You can learn more about this and other related programs by browsing the Georgia Power website or scheduling a free consultation with our team!
HVAC Rebate
There are many HVAC related rebates offered by Georgia Power, outlined in greater detail below:
$75 Off Smart, WiFi-Enabled Thermostats
Thermostats have come a long way from set it and forget it. Smart thermostat options are now designed to change the temperature setting based on need and energy conservation best practices. Upgrading your old thermostat to a smart, WiFi thermostat can be a great decision for business owners, and Georgia Power's rebate makes it an easy decision.
By installing a new thermostat with Intelligent Recovery technology; seven days, 5-1-1, or 5-2 day programming per NEMA standards for energy efficiency, you may be eligible to receive $75 off the device's total cost from Georgia Power.
$50 Off Per HP for Variable Frequency Drives (VFDs)
If your Variable Frequency Drive is between 2 and 200 HP, and operates for at least 1,500 hours annually, it may be time for an upgrade. Georgia Power offers rebates for new VFDs installed on existing HVAC pumps, motors, or fans at up to $50 off per HP.
One drawback of this particular rebate is that all the equipment you upgrade has to be brand new. Used or refurbished options are ineligible. Additional custom savings may be available for VFDs installed on new non-HVAC equipment above 200 HP.
Hotel Key Card Room Energy Control System
Many industry leading hotels are making the switch to occupancy-based controllers in their guest rooms. These devices are great for energy savings as it gives hotel staff the ability to control HVAC equipment in guest rooms to a certain extent.
If you decide to implement these devices in your guest rooms, Georgia Power can provide $100 for every room you control.
Commercial Door Air Infiltration Reduction
This rebate could be great for you if your facility includes commercial style doors. Installing weather stripping on entrance/exit, docks, overhead doors, and other commercial building doors, including refrigerated spaces, is a great way to preserve the efficiency of your HVAC system and lower your energy consumption.
Georgia Power offers $2 off per linear foot on exterior doors and $8 per linear foot on overhead doors for such upgrades. However, there are a few caveats:
Your doors must have visible gaps of at least 1/8 inches along the outside edge of the door
Any interior space must be air conditioned or heated through electric resistance or a heat pump only
And, any space with interior vestibule doors is not eligible for any of the Georgia Power incentives
Water Heater Rebates
Upgrading to a high-efficiency heat pump water heater is a great way to help cut annual energy costs. Even better, if you install a qualifying water heater option, Georgia Power offers a $250 rebate per unit for heat pump water heaters.
Required equipment specs include:
UEF > 2.2
FHR > 45 gallons per hour @ 125 degree F outlet temperature
Lighting Rebates
Last, but definitely not least on our list of preferred Commercial Georgia Power Rebates the wide variety of options regarding lighting upgrades.
Upgrading your business lighting offers a wide array of benefits, not least of which is a reduction in your overall energy consumption and expenditures. However, energy efficient lighting I now also designed to light spaces in such a way that employee productivity is increased, and customer satisfaction rises. Leveraging these related Georgia Power rebates helps to make both interior and exterior lighting upgrades more affordable. Different rebate rates apply for:
Existing Building Interior Lighting
Existing Building High/Low Bay Lighting
Existing Building Lighting Controls
Existing Building Exterior Lighting
New LED Exterior Fixtures
Existing Building Parking Deck Lighting
Existing Fuel Canopy Lighting
Existing Outdoor Pole-Mounted Lighting
Georgia Power also offers a Small Commercial Direct Install Rebate. This program allows smaller businesses to get up to 70% of the cost of LED lighting upgrades covered by Georgia Power. While it may be a great option, depending on your needs, be aware of the somewhat lengthy process involved. To participate, you'll need to schedule an assessment with Georgia Power and make the upgrades they advise you to. If you're looking for flexibility in your lighting choices, there may be better options out there for you.
More Information on Commercial Rebates:
Georgia Power has a maximum rebate amount of $25,000 per building, per year up to 50% of the equipment costs. That figure combines lighting, heating and cooling, business equipment, food service and grocery, pumps and water heating upgrades.
Green Line Rates Conclusion
At Green Line Rates, we understand that lowering your energy bills can be an extensive, yet valuable process. While the rebate programs above can definitely help you make improvements, there's an easier, more cost effective solution.
We are ready to help you navigate the world of utility rates to find the best deal for you. Our goal is always to ensure you have access to the best rates possible while never charging you anything up front for our work. Instead, you only pay us if and when we find utility cost reduction opportunities.
Change the way you think about paying for power. Contact our team today and see how we can help lower your monthly electric and other utility bills.