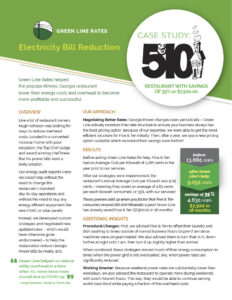 Electricity Bill Reduction Case Study: Five & Ten – Restaurant with Savings of 35% or $7,500.00.
Green Line Rates helped the popular Athens, Georgia restaurant lower their energy costs and overhead to become more profitable and successful.
Overview
Like a lot of restaurant owners, Hugh Acheson was looking for ways to reduce overhead costs. Located in a converted Victorian home with poor insulation, the Top Chef Judge and award winning chef knew that his power bills were a likely solution.
Our energy audit experts knew we could help without the need to change the restaurant's standard day-to-day operations and without the need to buy any energy efficient equipment like new HVAC or solar panels.
Instead, we developed custom strategies and negotiated new, updated rates – which would have otherwise gone undiscovered – to help the restaurateur reduce Georgia Power Bills by nearly 40%.
"Green Line helped us reduce utility overhead in a time when it's never been more crucial due to COVID-19." – Hugh Acheson, Owner @ Five & Ten
Our Approach
Negotiating Better Rates: Georgia Power changes rates periodically – Green Line actively monitors their rate structure to ensure your business always has the best pricing option. Because of our expertise, we were able to get the most efficient structure for Five & Ten initially. Then, after a year, we saw a pricing option available which increased their saving even further!
Results
Before asking Green Line Rates for help. Five & Ten had an Average Cost per Kilowatt of 13.88 cents in the year prior to our services.
After our strategies were implemented, the restaurant's annual Average Cost per Kilowatt was 9.05 cents – meaning they saved an average of 4.83 cents per each kilowatt consumed, or 35%, with our services!
Those pennies add up when you factor that Five & Ten consumes around 160,000 kilowatts a year! Green Line has already saved Five & Ten $7,400 in 18 months!
Additional Insights
Procedural Changes: First, we advised Five & Ten to offset their laundry and dish washing to times outside of normal business hours (11 pm—7 am since machines were programmable). We also advised them to turn their A/C down further at night until 7 am, then turn it up slightly higher than normal.
When combined, these strategies moved much of their energy consumption to times when the power grid is not overloaded, aka, when power rates are significantly reduced.
Working Smarter: Because weekend power rates are substantially lower than weekdays, we also advised the restaurant to operate more during weekends with lunch/brunch hours. This way, they would be able to continue serving world class food while paying a fraction of the overhead costs.