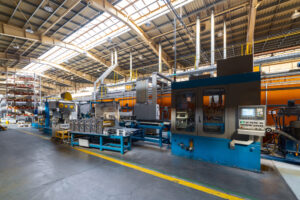 Machine shops and manufacturing facilities account for nearly 75 percent of all industrial energy consumption. And with energy prices increasing and consumers becoming more cognoscente of the impact their behavior has on the environment, making your machine shop "green" isn't just good for your bottom line, but good for business as well. At Green Line Rates, we offer energy auditing services to help identify ways to save machine shops money. Read on to learn more.
How It Works
Energy audits consist of thorough building assessments to determine a facility's current energy efficiency status and where improvements can be made. A machine shop audit from a Green Line Rates professional consists of:
A thorough initial evaluation to fully assess the machine shop's energy usage.

A

utility bill audit

to understand how much energy a facility is using at certain periods of the day and to look for any irregularities in billing rates. A utility bill audit is commonly done at the same time as an energy audit.

Recommendations for improving your machine shop's energy efficiency based on the data and information gathered from the evaluation and utility bill audit.
Services Offered
Our energy audits are designed to identify solutions to help machine shops and other facilities reduce their energy output by up to 25 percent. Learn more about the other services offered by Green Line Rates.
Machine Shop Utility Audit
As we noted above, utility bill audits are often performed at the same time as energy audits. These consist of analyzing a facility's past utility bills to ensure they are billed correctly and also looking for opportunities to secure a lower overall rate.
Machine Shop Energy Consulting
Green Line Rate's services for machine shops don't have to end with an energy audit and utility bill audit. We also offer energy consulting services to help your machine shop meet its long-term sustainability goals. Think of our energy consulting services as an extension of your machine shop business. We'll partner with you, understand your goals, and work to implement short and long-term plans to help your shop meet them.
Contingency Basis
At Green Line Rates, our business model is simple: We don't get paid unless we identify ways for your machine shop to conserve energy. But the good news is that we almost always identify ways for your facility to conserve energy – whether it's through our consulting services, our audits, or something else. In most cases, we can identify ways for our clients to reduce their energy usage by 20 to 25 percent. This translates into cost savings for the facility and a more sustainable overall operation.
Get Your Utilities Audited Today!
For more information about Green Line Rates' energy audit consultants for machine shops and how we can help you save money and promote a more sustainable facility, contact us today.