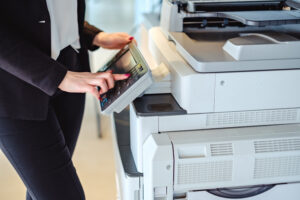 If your business' electricity bill looks higher than normal after a large project, it might be time to look at your commercial printers as a significant source of the problem. Schools, offices, and other workplaces can all benefit from the energy and environmental savings by monitoring printer energy usage. Given a large enough sample size, you will see how the costs of using printers add up if you're not making conscious decisions to reduce your energy consumption. Switching to energy-efficient printer models, knowing when to power down your machines, and being aware of changes to reduce energy will put you in a much better position to see some real changes in your electricity bill. Read on to find out how to save money with a few changes to your commercial printers.
Energy-Efficient Commercial Printers
If you want to see some immediate changes, consider updating or upgrading the printers you're using. Determine your budget and find the most environmentally friendly printer you can afford. There are many printers on the market, so pay attention to what each model offers in terms of energy savings to ensure you will see changes to your energy consumption. Some benefits to an energy-efficient printer include:
Reducing carbon footprint – Possibly the most obvious benefit would be reducing the amount of energy used. Energy-saving printers should automatically enter standby mode to lower energy throughout the day. They should also always use double-sided printing to cut back on using tons of paper.
Less Toner – Along with less paper, double-sided printing combined with toner-saving printers will save you from purchasing toner as frequently, saving your business money while being environmentally conscious.
Quality Settings – Find printers with the ability to select print quality when needed. If higher resolution prints aren't necessary, your printer should let you choose a lower quality setting to save energy.
Powering Down
Even though investing in energy-efficient printers is a helpful first step to seeing savings, making staff aware of energy-saving practices will enable the best energy savings of them all. Get everyone in the building on board with exercising some energy-saving settings every day. By training staff, you get everyone on the same page to ensure energy-saving tasks are happening. A few tips you can train staff to keep in mind include:
Turning off printers, along with all other electronic devices at night before you go home.
Installing Ecofont, a software that converts words into ink-saving characters, on staff computers.
Using ink-jet printers instead of laser printers.
Printing in black and white whenever possible.
Keeping multiple printers in different areas of the office. This way one printer won't get overworked and end up breaking down or getting jammed.
Why Reduce Energy Consumption?
When it comes to reducing your commercial energy usage, you're playing the long game. It may be difficult to remain patient for results, but trust in knowing a few small decisions will end up leading to large savings.
Save money. Saving money whenever you can is always a huge motivator for any business. Improving your finances is as easy as finding opportunities to save energy to slash your utility costs. Make your business more productive by implementing energy-saving tactics to improve your overall finances.
Meet environmental standards and make an impact. Depending on your business this may be required, but otherwise, it's an excellent opportunity to market your business as a green company. There is an increasing demand from customers to give their business to companies who take measures to be environmentally friendly, whether it's their practices or products. In addition, you will be considering your impact on the environment for future generations and setting a precedent for other companies to follow.
Calculate Your Printers' Energy Consumption with an Energy Audit. Before switching out your printers, sometimes it's best to know what you're currently dealing with. Getting an energy audit will help you calculate the current energy consumption of your printers, allowing you to determine your return on investment with some new printers.
Work with Green Line Rates to Save Energy from Your Commercial Printers
Green Line Rates understands the industry well. We want to save you money without having to spend money first. Let us perform your energy audit today and we will negotiate on your behalf and monitor energy-saving costs to ensure your business always has the best pricing option.
At Green Line Rates, we are ready to be your partner in reducing your commercial utility costs. Working on a contingency basis, we don't require any upfront payment to save your company money. Instead, if we find utility cost reduction opportunities that will cut your annual expenses, we simply earn a percentage of those savings. If there aren't any opportunities found, you don't pay a thing.
If you'd like to get started on your risk-free energy audit, please contact our team today and get started on the next steps within 10 minutes.