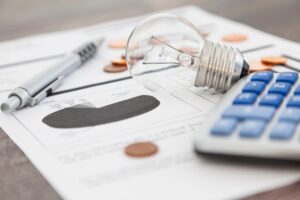 On average, energy usage represents about one-third of a firm's total operating budget. And with energy costs on the rise and expected to tick up even higher in the coming months and years, it makes sense to take measures to reduce this expenditure.
One of the most effective ways firms can do so is by ordering a commercial energy audit for their business. A business energy audit is a comprehensive process where a professional auditor will assess a firm's past and current utility bills and search for things such as compliance errors, billing errors, opportunities for optimization, and more. From there, the auditor will engage in negotiations with utility companies to seek a better rate or contract terms. When an energy audit is combined with other energy conservation strategies, a business has the potential to reduce costs by as much as 50 percent.
In this post, we'll talk more about commercial energy audits and the key benefits of having one done at your facility. Here's a closer look:
Why Should You Get a Commercial Energy Audit Done on your Business?
So why should you get a commercial energy audit done for your business? There are plenty of reasons to move forward with one on your commercial property. In the forthcoming sections, we'll take a look at some of the key benefits of doing so – whether they're direct or indirect.
Save Money
The biggest reason to have a commercial energy audit done on your facility is to save money. Like we said in the opening, a commercial energy audit that's combined with other energy conservation strategies can potentially halve your firm's energy bills, significantly reducing overhead expenses. It's estimated that the average cost of utilities in a commercial building is more than $2 per square foot and energy usage accounts for about one-third of a firm's total operating budget. Noting this, why wouldn't any firm take the necessary steps to roll back costs?
Improve Employee Health, Safety, and Comfort
As we've been saying throughout this post, an energy audit when combined with other energy conservation strategies such as better insulation, smart thermostats, and Energy Star appliances, can help halve energy bills. And while cost savings is perhaps the biggest benefit, there are other benefits to note as well – namely as they pertain to health, safety, and overall comfort.
A building that's optimized for energy conservation is also likely to be a healthier and more comfortable building. Insulation and proper sealing will mean fewer drafts and fewer temperature fluctuations in certain areas of the property, providing a more welcoming environment for employees and visitors. And studies show that a workplace with happy employees is a more productive overall environment. Reducing overhead expenses is one thing. But taking measures that potentially improve workplace morale can have a whole other range of benefits.
Help the Environment
As attitudes change and everyone continues to become more aware of the impact that their actions can have on the environment, taking measures to reduce energy output by complementing an energy audit with other energy management strategies can help support any established environmental goals. Many businesses have already released long-term sustainability plans that outline the strategies that they're taking to become carbon neutral or significantly reduce greenhouse emissions.
Others are taking things a step further and publishing Environmental, Social, and Governance – or ESG – reports. ESG reporting is currently voluntary, yet it's only likely to become more prominent in the coming months and years. Many clients are asking to see data on what a firm is doing from an ESG perspective as it weighs whether or not to do business with it. Showing the ways that your business has reduced energy consumption can represent a significant part of the "Environment" part of ESG.
In addition to serving as a business-building tool, any efforts to show how your firm is being "green" can also help serve as a recruiting tool and how it's perceived in the local community. Eco-conscious consumers may be more likely to purchase your firm's product or service if they're aware of your sustainability initiatives and eco-conscious job seekers may be more likely to want to work for your firm in a competitive hiring market.
Provide Protection to Your Business
As we've noted throughout this piece, an energy audit is a process of assessing past and current utility bills and uncovering ways to reduce rates. But this is done in a way so a business saves money, but remains compliant with its utility bills. There are several other benefits to taking such actions, such as freeing up money to address other aspects of your business that you may not have had the budget for in the past.
An energy-efficient building is also one that is valued higher than one that is not. Taking steps to become more energy efficient can do more than just keep a facility more comfortable, reduce overhead costs, and extend the life of the equipment and appliances within it. It can also increase its property value.
Get in Contact with Green Line Rates
With energy costs on the rise, it makes sense to want to save as much as possible on utilities. At Green Line Rates, we can help. Contact us today to learn more about the process we take when performing commercial energy audits and we'll be happy to schedule a kick-off meeting with you to start. If you decide that an audit is right for your business, we'll assess your current and past energy bills and look for ways to help you save while staying compliant with all regulations. We'll then provide you with a detailed report and begin to work with utility providers to help you save.
For more information on commercial energy audits and other energy conservation strategies, contact us today.