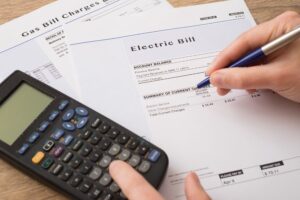 We all enjoy using power in our everyday lives. As a business owner, you want to make sure there are no power interruptions to the operation of your business. When you get home after a long week, you may want to take a relaxing hot bath; or, during the winter you may want to crank up the heat and cozy up to a good movie. Whatever the energy necessities your business needs, or the energy luxuries you enjoy at home, power is an essential element.
This everyday use of power, however, is always accompanied by a power bill at the end of the month. You may be wondering, "how can I lower my Georgia Power bill?"  This article explores a few reasons your power bill may be high and offers solutions to lower your power bill.
At Green Line Rates, we work to make sure your power bill is low, so you can continue to enjoy the everyday productivity and joy that power brings.
Sources of High Power Bills and Solutions
Oftentimes, we inadvertently allow energy to be wasted simply because of unknown sources that are draining extra power. Below lists the sources that can be causing your Georgia Power bill to be high and offers solutions on how to lower your Georgia Power bill.
Thermostat: Let's first start with one of the commonly known sources where power is used: the thermostat. Georgia Power reported that "heating and cooling costs make up approximately 46% of your average power bill."  To save money, the first solution is to simply increase the thermostat in the summer and lower the thermostat in winter. Indeed, Georgia Power explained that in the summertime, "each degree cooler can increase in your bill by 4%."  Georgia Power recommends setting your thermostat to at least 78 degrees in the summer.
Another option to address the high power bill your thermostat may be producing is to switch to a programmable thermostat. A programmable thermostat keeps your home at a constant temperature, but also is energy efficient and can save approximately 15% in cooling costs.
Refrigerator and Freezer: Next on the list of sources that can be causing a high energy power bill is a refrigerator or freezer. Whether you use a refrigerator or freezer in your home or for business purposes, these appliances are a major source of energy usage if they are set too low.
In order to make sure they run at peak efficiency, while not too high, set your refrigerator thermostat somewhere between 35 to 38 degrees. Likewise, set your freezer's thermostat to zero degrees in order to save energy and maximize your freezer's efficiency!
Additionally, if you have a second refrigerator, this can add an extra cost to your Georgia Power bill, especially if it is in a space without air conditioning. If you leave this second refrigerator running, it can end up costing you an extra $150.00 per month. So, if you are not using the second refrigerator, unplug it; if you are using it, then consider transferring the refrigerator to a location that has air conditioning, so it does not have to use more energy than necessary.
Air Conditioner: Have you changed your air conditioning filter lately? Another large source of a high power bill is an overused air conditioning filter. By not checking your air conditioning filter, your air conditioning unit is having to work extra hard to keep your home cool. To lower your Georgia Power bill, check your air conditioning filter at least once a month and change it if needed.
Insulation:  Proper house insulation is especially important in the winter months. Because individuals are often heating their homes or place of business during the winter, heat often escapes because of poor insulation. The first place to check is your attic. Remember, heat rises; so, if possible, add more insulation to your attic to make sure the heat is not easily escaping and remains trapped in your house.
Next, check the insulation in your walls. Surprisingly, one of the primary areas heat can escape is through the walls of your house, specifically where utilities or electrical outlets are located. If the wall insulation is insufficient, consider bolstering the insulation inside them.
Use Energy in Off-Peak Hours
With Georgia Power's Time of Use — Energy Only (TOU-EO) tariff, "on-peak" rates occur from 2–7 pm on non-holiday weekdays from June through September. Use of energy in off-peak hours is one of the main ways to save on your Georgia Power Bill. If you can shift washer, dryer, and dishwasher use to a time on the off-peak pricing you'll save more money.
More Solutions to Lower Your Georgia Power Bill
In addition to these above sources which can result in a high Georgia Power bill, and solutions thereto, the following are more solutions on how to keep your Georgia Power bill low.
If we find an opportunity to reduce your energy bill cost, cut your expenses, and save you money, we will only earn a percentage of the savings you are already receiving. In other words, Green Line Rates offers a risk-free experience for you to start saving money on your monthly energy bill.
If you would like to learn more about how you can start saving money today on your energy bill, please contact our team today.