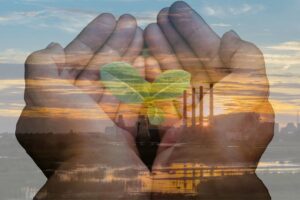 Businesses, small and large, search for tips to reduce energy bills. Without a doubt, the simplest solution also ends up being financially the safest option. By enlisting the help of an electric rate consultant, you can receive a risk-free audit for your business to identify opportunities to lower your electric bill rates. There's no question an energy audit can uncover better utility bill rates, and although saving money may be the biggest motivator, what you end up doing with the savings may have the largest impact on your business moving forward.
Saving money from energy consulting services creates a domino effect of making energy-conscious decisions. By saving money, it opens up opportunities to invest in green energy solutions for your company, where you can continue to find ways to save money on your utility expenses while sparing the environment. Read on for more examples of the kinds of solutions your business can purchase with the spare money you now have from reduced energy bills.
Benefits of Energy Audits: Affording New Green Energy Solutions
Even with a better rate, how can you keep improving your utility costs? Although it's tempting to hoard the savings, it would be wise to initially put some of the saved money back into your business; you'll certainly thank yourself later! Surprisingly, implementing green solutions for your business may be easier and less expensive than you think. As a bonus, you can earn respect from existing customers and bring in new customers with your pledge to continue implementing greener business practices.
Below we list a few purchases you can make that may seem small and insignificant, but in fact, can make a sizeable impact in continuing to lower your utility bills while being kind to the environment!
Programmable Thermostat
If you don't already have one, installing a programmable or even a smart thermostat can help you manage heating and cooling usage while you're away. During off-hours, you can set the thermostat to reduce time cooling or warming the space, so you don't need to remind yourself or staff to make the adjustment each night, preventing human error from getting in the way of energy and money savings for your business.
Smart Outlets and Power Strips
It's a little-known fact that electricity is still used by electronics still plugged into outlets, even if the device isn't in use or turned off. An average household can save hundreds of dollars a year by switching to smart power strips, so just imagine how much a commercial building can save! Using smart outlets or power strips allows you to control when everything shuts off and lets you power down your machines whenever you need wherever you are, creating a forgiving solution to extra energy consumption.
Switch Out Lightbulbs
Incandescent lightbulbs consume excessive electricity while still needing to be replaced more often than LED, CFL, or halogen bulbs. Alternative lightbulbs use up half the electricity on average while last three times as long. The price tag for alternative lightbulbs is larger, but it should be an easy cost to maintain with the savings you receive from an electric rate audit.
Energy Efficient Appliances
Whether it's refrigerators, printers, or microwaves in the break room, if your utility bills are high, you can always look to upgrade your appliances to conserve energy usage. Look for Energy Star labels when shopping for new appliances since this is a federal guarantee the appliance will consume less energy. These one-time purchases will save you money in the long-run, and you will have the added bonus of upgraded electronics and machines.
Why Do an Energy Audit?
Did you know you're likely paying more than you have to each month on your utility bills? When done by a knowledgeable consultant, energy bill audits can find ways to negotiate and find the best available rate for your company. Find rebates and savings wherever you can so you can take the first steps to utility bill savings and reward your business with the many benefits of implementing green energy solutions.
There are many advantages to making energy-saving changes since they result in money-saving opportunities, increased property value, energy consumption savings, and not to mention peace of mind! The best part is you can choose what measures you want to prioritize. No matter how small or large the changes are, you will certainly see benefits from the energy savings. The reasons to implement green energy solutions are plentiful, and it all starts with utility rate savings from your energy consulting companies.
Offset Utility Bill Costs by Using Power Wisely
Not only can energy audits reduce your rates, but you can also find more savings by knowing when to reduce your energy consumption. Running too many lights and appliances during peak hours from 2-7 on weekdays can greatly increase your utility bills. Assuming you don't have any essential electricity use, such as refrigerators and coolers, use your discretion to lower electricity usage during peak hours. Practicing habits such as avoiding heavy appliance use during peak hours and setting back thermostats will grant your business even more energy savings.
Work with Green Line Rates to Audit Your Energy Bills
Green Line Rates work with a lot of manufacturers in many different industries and understands the unique needs of an energy-intensive business. We want to save you money without having to spend money first. Let us perform your energy audit today and we will negotiate on your behalf and monitor energy-saving costs to ensure your business always has the best pricing option. The best part is we won't charge you until you start experiencing savings!
At Green Line Rates, we are local to the city of Atlanta, and are ready to be your partner in reducing your commercial utility costs. Working on a contingency basis, we don't require any upfront payment to save your company money. Instead, if we find utility cost reduction opportunities that will cut your annual expenses, we simply earn a percentage of those savings. If there aren't any opportunities found, you don't pay a thing.
If you'd like to get started on your risk-free energy audit, please contact our team today and get started on the next steps within 10 minutes.